The best social media management tools make it easier for you to manage your social posting, scheduling, and reporting.
By keeping everything under one tidy roof, they give you a much better portrait of what's going on (and indeed out) across your social media pages.
In this guide, I'll highlight some of the best tools you can use for your social media scheduling and management, so you can make lighter work of your posting.
WHY USE A SOCIAL MEDIA MANAGEMENT TOOL?
One of the most frustrating things about LinkedIn in particular is the inability to schedule posts in advance on the platform. How this feature still isn't available in 2021 is quite frankly beyond me...
Facebook and Instagram allow you to schedule through FB Creator Studio, but it can be a bit clunky - especially if you are dual-scheduling on both platforms simultaneously.
Twitter now finally allows you to schedule Tweets in advance too, but the inability to edit posts means once something is published, you're forced to manually delete it should something be wrong - perhaps a typo, or an incorrect link.
If you're going to spend the time creating amazing content for your audience on social media, having the option to schedule posts, and manage them, ahead of time is a huge benefit.
HOW DO THEY WORK?
Set up an account with the tool of your choice

Email
Password
Verify email address
Necessary personal details for profile
Connect your required social media account/s to the tool

You may need to authenticate the connection via pop-up
Have your social media account log-in details handy
Complete connection

You should now be able to post and schedule social posts via the tool


WHAT'S THE BEST TOOL?
There's a lot of really good options out there, so choosing the best tool for you and your goals and price point is entirely up to you, but here are my personal favourites which are well worth considering.
HOOTSUITE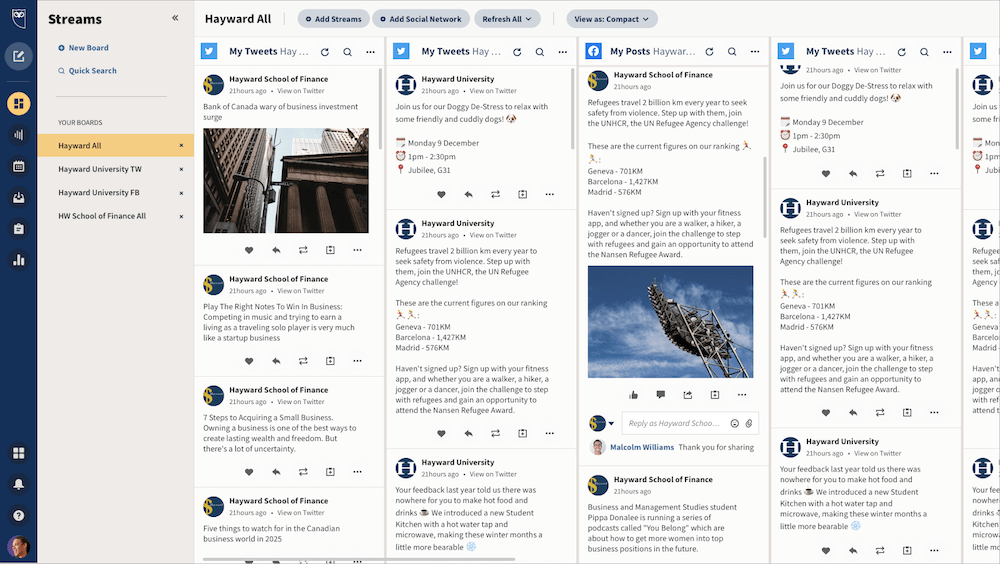 Best features: all-in-one social management; multiple integrations.
Hootsuite is the Lewis Hamiliton of the social media management tool world. It's been around for ages, it's consistently reliable, and many people swear by it.
It has a really nice interface that gives you an overview of everything that's being posted on your social media accounts - almost like a micro-newsfeed - which is a great feature. It means you can still browse your socials and engage with your audience, without actually having to visit them directly.
It also has some great integration options with other common workplace software too, such as Slack and MailChimp. Additionally, it has a handy Google Chrome extension, which means you can schedule whilst browsing the web - decent for those looking to multi-task.
SEMRUSH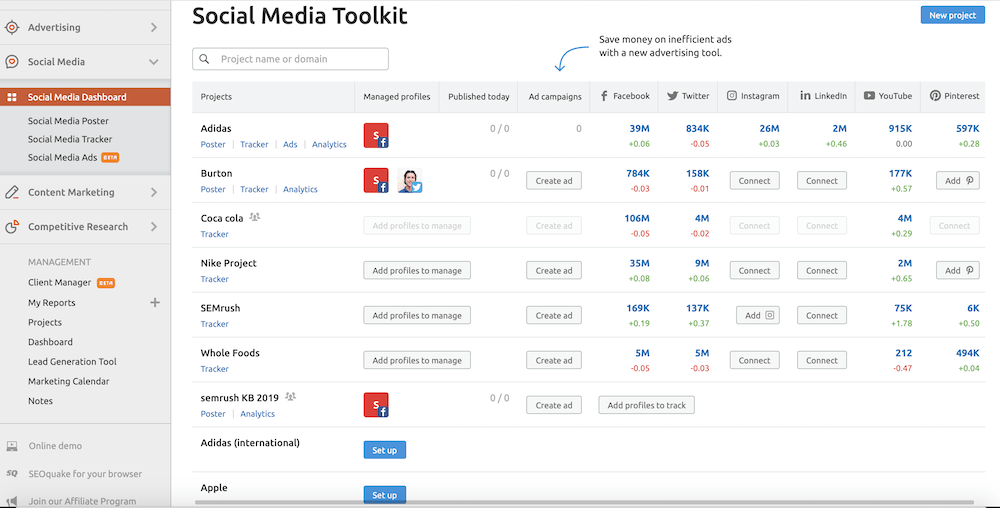 Best features: social media tracker; SEO integration.
SEMrush is predominantly known for being an SEO (Search Engine Optimisation) platform, but it does provide a series of great social media management tools which you can take advantage of.
The social media poster and tracker allow you to schedule posts across all platforms, and you can also manage any paid advertisements or boosted posts, too. Semrush also has an attractive and user-friendly dashboard which displays all your relevant feeds.
Without question though, if SEO is a critical part of your digital marketing strategies (and it should be…), then it's host of tried-and-tested keyword features will make this a tough one to top.
BUFFER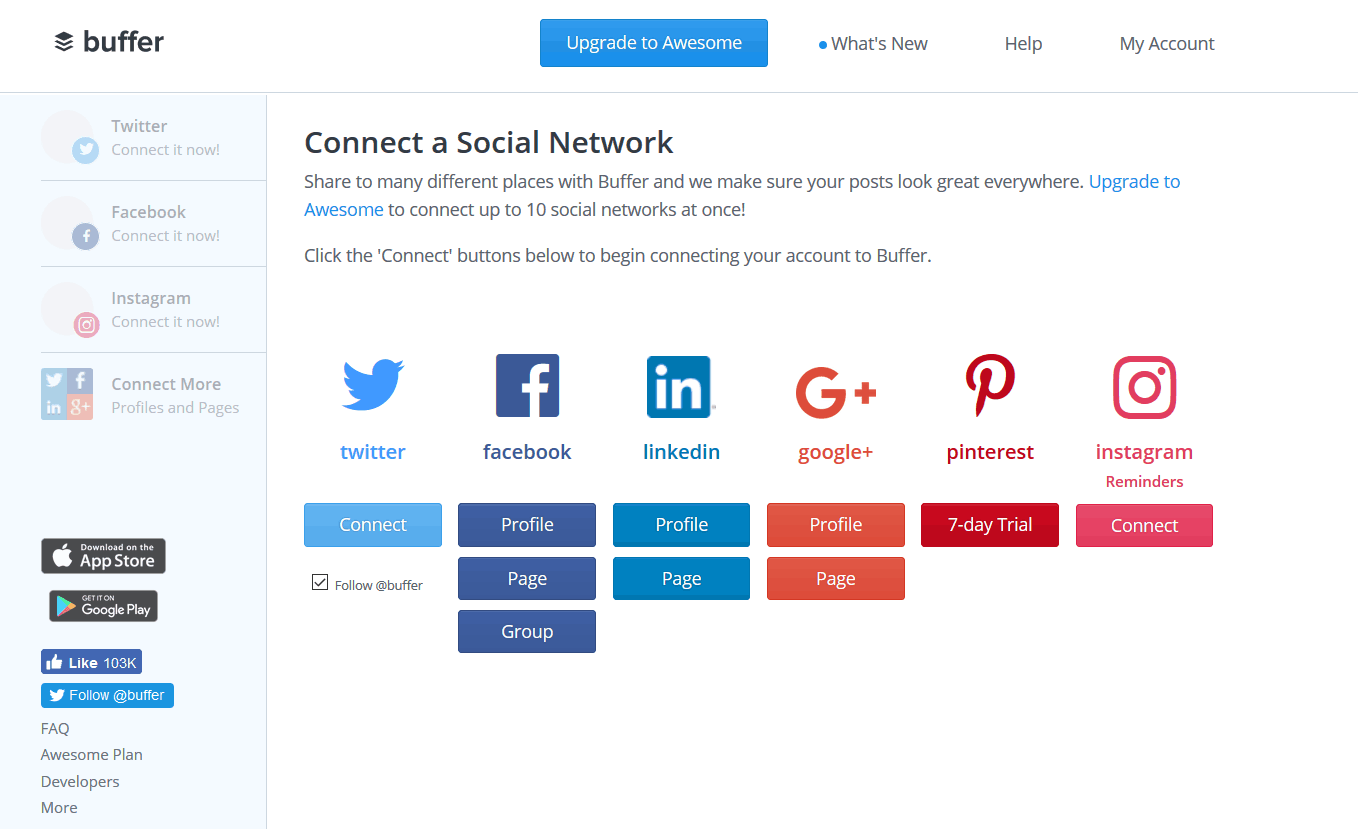 Best features: super easy interface; Google Analytics integration.
Buffer is arguably the easiest social media management tool out there. If you are interested in simplicity and less in features, this is a fantastic option.
With minimal, unfussy presentation and a super easy interface, there's little to think about for the user - it's just a case of getting connected and getting scheduling.
Despite Buffer's more limited approach to features, it does offer integration for Google Analytics, which is a big plus point. Many marketers use analytics from Google as again it's an easy and consistent way to examine performance.
SPROUT SOCIAL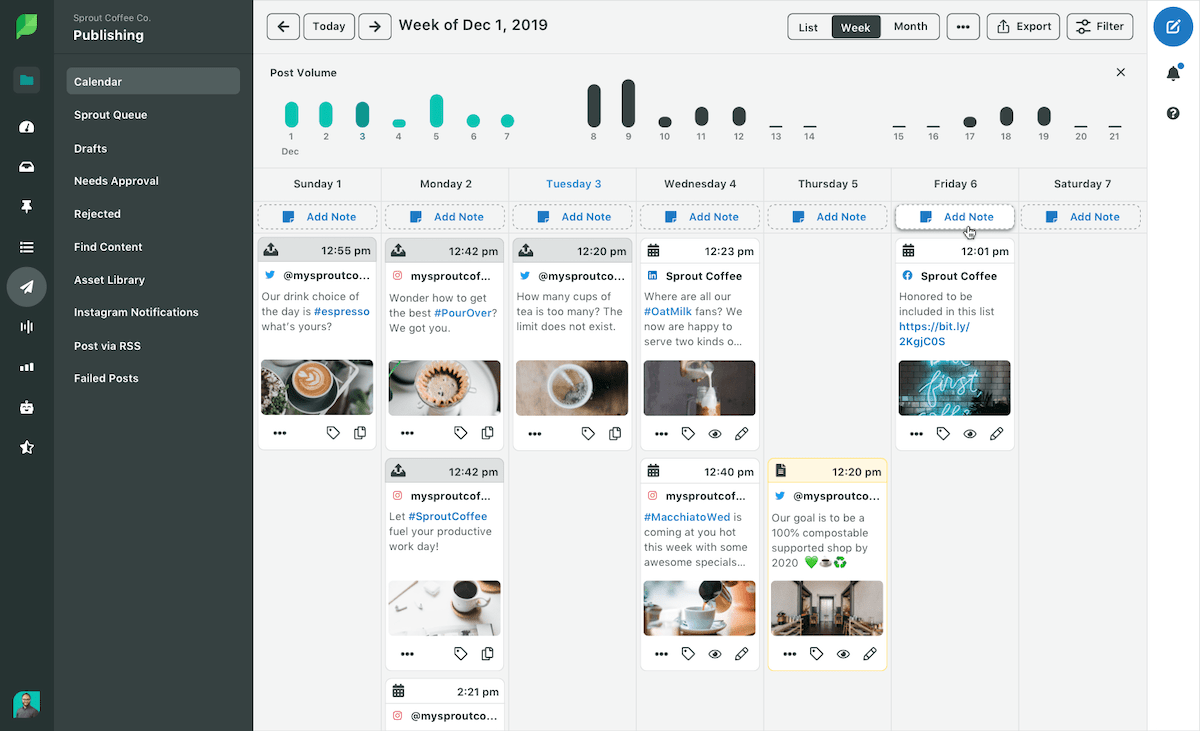 Best features: social posting system; customer service.
Sprout Social is very similar to Buffer - another clean, easy-to-use management tool. It has a diversified selection of social media channels that are compatible, and you can schedule simultaneously across all of them.
A big added benefit of Sprout Social is the ability to directly reply to your customer's messages and inboxes - allowing you to stay within the tool, but not miss out on great customer service opportunities. You can also track your performance too - another way to further improve and adapt.
Something that I personally love is the demographic and geographical features. You're able to see who is engaging with what posts based on their location, gender, interest and more. This allows you to be more targeted and effective with your social messaging.
HUBSPOT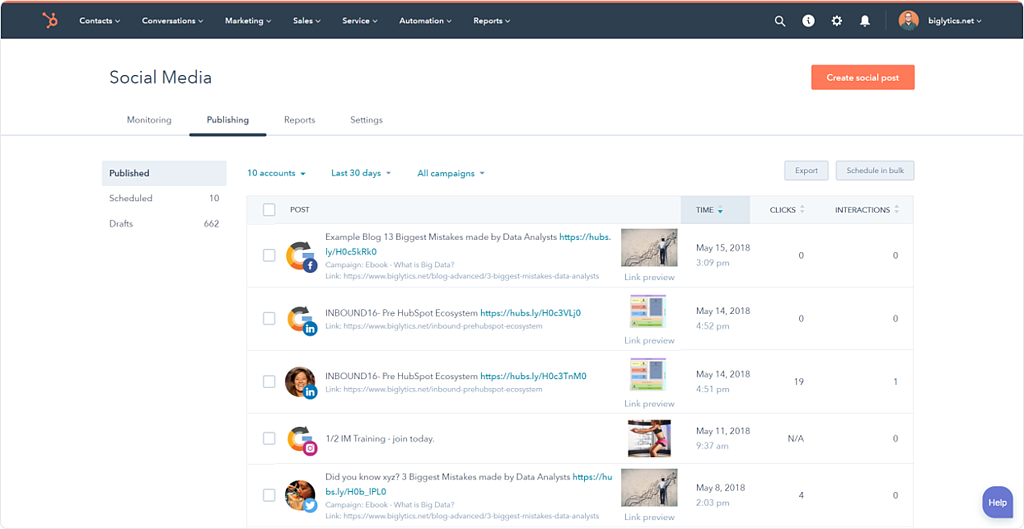 Best features: monitor multiple channels; inbound marketing.
HubSpot is our go-to here at FINALLY. We're very proud partners and we use it every single day across all areas of our business.
Social media management is a part of the service, not the sole focus. If you're seeking a more complete tool for all of your digital marketing needs and services, there's very little you can't do with HubSpot.
The channel monitoring and scheduling tools are very good indeed, and a big benefit is the ability to divide posts across different campaigns - this means you can gather much more accurate and granular data for reporting, rather than just a more general overview of your social posting performance like many of the other tools offer.
HubSpot is a brilliant option if you're keen to build social media as an integral part of your overall strategy, as you can align its performance to your overarching business goals and processes.
RELATED CONTENT TO IMPROVE YOUR SOCIAL PERFORMANCE
GET MORE LEADS FROM SOCIAL MEDIA
HOW TO INCREASE YOUR SOCIAL MEDIA FOLLOWERS
YOUR SECRET GUIDE FOR CHOOSING THE RIGHT HASHTAGS
AT A GLANCE: WHAT'S THE BEST TOOL FOR SOCIAL MEDIA SCHEDULING?
Why use them? They're a quick and simple way to schedule social posts.
How they work - connect all your social accounts to one third-party tool.
Hootsuite - all-in-one social management; multiple integrations.
SEMrush - social media tracker; SEO integration.
Buffer - super easy interface; Google Analytics integration
Sprout Social - social posting system; customer service .
HubSpot - monitor multiple channels; inbound marketing.
WANT TO LEARN MORE?
Please feel free to contact our social team or connect with me on LinkedIn – I post lots of social media tips and tricks on my profile which I hope you'll find helpful. Be sure to get in touch with us at FINALLY for any further assistance, too; we're happy to help!