INBOUND 2023, HubSpot's annual conference, never fails to disappoint with a star-studded lineup of inspiring, motivational and educational speakers.
Previously, the Obama's have shared the mainstage spotlight with Michelle Obama appearing in 2017 and Barack Obama in 2022. Who will take the stage in 2023? Keep reading to find out: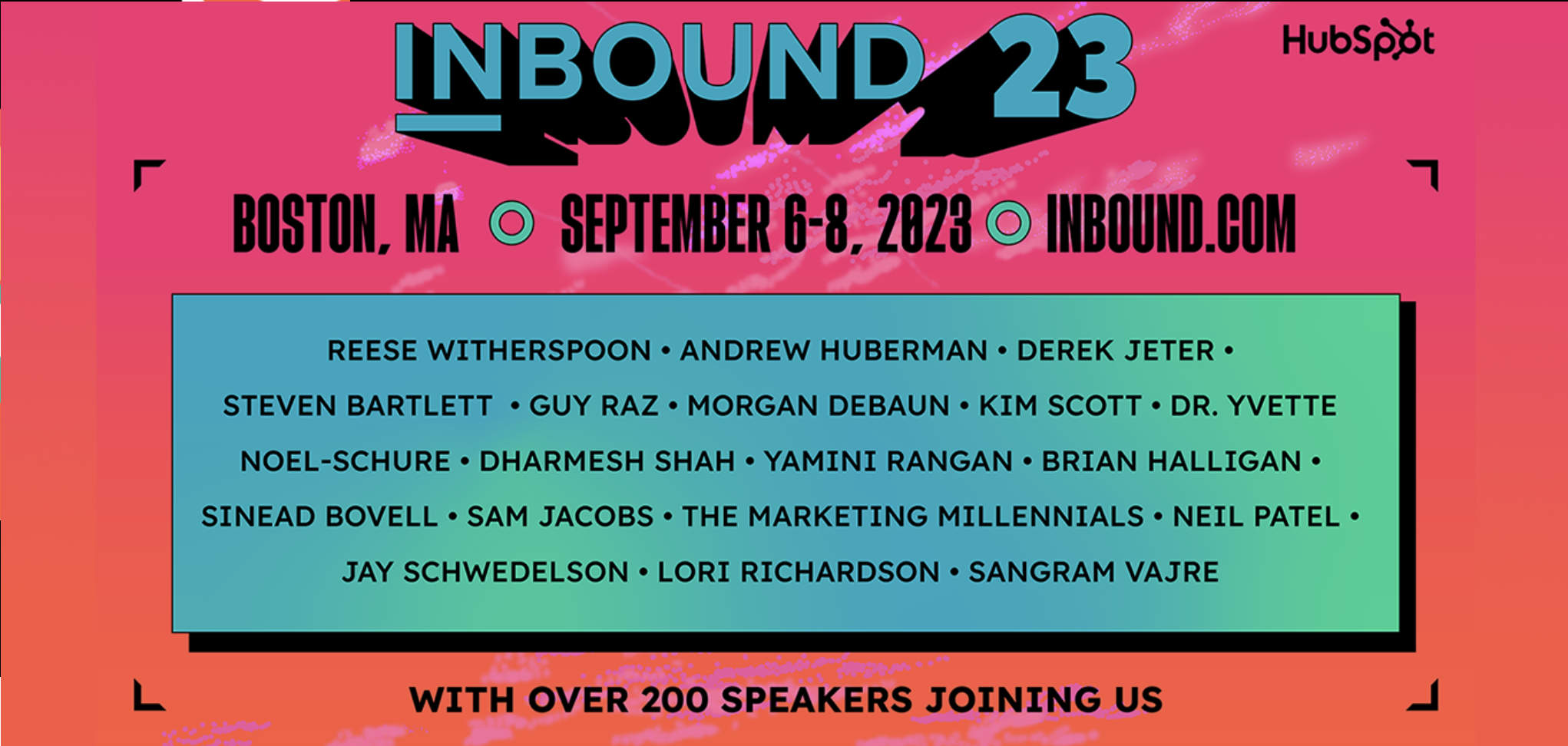 KEY SPEAKERS AT INBOUND 2023:
Reese Witherspoon
Andrew Huberman
Steven Bartlett
Derek Jeter
Guy Raz
Morgan Debaun
Kim Scott
Dr Yvette Noel-Schure
Yamini Rangan
Brian Halligan
Dharmesh Shah
WHAT IS INBOUND?
INBOUND is a marketing event like no other, with the atmosphere and feeling of something more akin to Glastonbury than your typical, stuffy sales and marketing conference. At no point are you quietly snoring into your stale coffee while someone delivers a thinly disguised sales pitch at you in an echoey, empty auditorium - even with the jet lag.

INBOUND, based in Boston where HubSpot have its HQ, is a multi-day event full to the brim with marketers and salespeople who are passionate about what they do and have come to share ideas, collaborate, and learn from each other. This year, the event takes place from the 6th-8th September, 2023.

As well as the main stage speakers introduced in this blog, across the three days, attendees have the opportunity to hear from over 200 speakers, sign up for workshops and interactive sessions, get valuable insights and lessons from those at the top of their game, network and make new friends at the social events.
WATCH OUR INBOUND VLOGS FROM 2022

Let's take a deeper look at some of the names that will be delivering the keynote sessions on the INBOUND stage in Boston this year.
THE LINE UP FOR INBOUND 2023:
Reese Witherspoon
Reese Witherspoon is a successful actor, producer and founder. She founded Pacific Standard, responsible for producing two Academy Award-nominated movies Gone Girl and Wild. In 2016, Witherspoon founded Hello Sunshine,a subsidiary of Pacific Standard, which focuses on producing stories about women and by women. At INBOUND 2023, Reese will be sharing her strategies for driving growth, creating a culture of excellence, and the challenges of producing content in a rapidly changing landscape.


Andrew Huberman

Andrew Huberman is a renowned neuroscientist and professor at Stanford University. He has a YouTube channel with 3.29 million subscribers, where he talks about how to hack your brain to improve your discipline, which ultimately leads to success in whichever habits you're trying to establish, whether it is improving your sleep, diet or fitness. At INBOUND, Andrew will discuss how to fuel and strengthen a team's culture through a powerful combination of intense focus, mindfulness, and rest.


Steven Bartlett

Steven Bartlett hosts the #1 UK Podcast 'The Diary of a CEO', an entrepreneur and investor, and the author of "Happy Sexy Millionaire". He talks a lot about sustaining long-term success, and INBOUND will be no different. He promises to identify upcoming trends to jump on and give his take on how businesses can identify and implement future-proof strategies.


Derek Jeter

Another speaker who isn't a stranger to leadership and success, Derek Jeter is a former professional baseball player for the New York Yankees, where he spent his entire 20-year career. At INBOUND, Derek Jeter will share his experiences and lessons in leadership, how to fuel motivation and taking risks.


Kim Scott

Kim Scott is an author, speaker, and leadership coach known for her book "Radical Candor: Be a Kick-Ass Boss Without Losing Your Humanity." In her book, Scott presents a management philosophy that promotes open and honest communication in the workplace. At INBOUND 2023, Kim will explore the role of "radical candour" and the importance of feedback in 2023.


Dharmesh Shah

Dharmesh Shah is the Co-Founder and Chief Technology Officer at HubSpot. He will no doubt discuss something new he has been working on, that INBOUND attendees will get a first look at. Last year, Dharmesh announced the launch of connect.com, and since then, he has released ChatSpot, the HubSpot AI Tool. Dharmesh talks with such clear passion for technology and community, and how they operate together, and he will undoubtedly get everyone excited about the future of HubSpot.


Brian Halligan

Brian Halligan is the CEO and Co-Founder of HubSpot, and will be addressing the attendees on the main stage. Last year, Brian also interviewed Barack Obama for a fireside chat, which inspired and motivated the listeners in their thousands.


---

We're so excited to attend INBOUND 2023 this September and hear from an incredible lineup of key speakers.

We look forward to sharing the insights with you, so make sure you stay tuned.