What is Google Analytics and why do I need it?
Google Analytics is a widely used, free data tool that allows you to track data from your website visitors. Stuff like, how many website visitors you get, where they come from, and how they behave on your website. The tool then collects and stores this data, helping you analyse how successful or unsuccessful your website is at delivering your goals.
Learn how to install Google Analytics in these 3 easy steps:
1. Set up a Google account
If you do not have a Gmail account setup you can set one up here. You'll need a Gmail account to access Google Analytics once it's set up.
2. Set up Google Analytics
Whilst signed in to your Google account, visit the Google Analytics landing page. Once there, click on the blue "Start for free" button in the top right corner.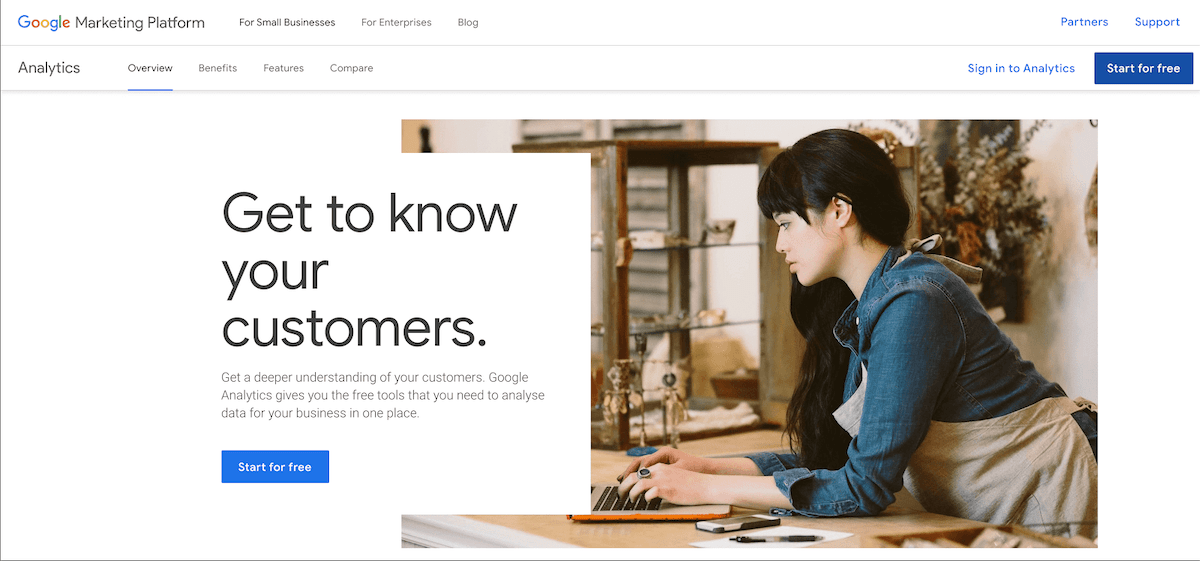 Next, complete the form with the following details:
Account name – the name of your company.
Website name – your URL or domain name.
Website URL – the link for your website.
Make sure you use the correct http or https protocol here. You can find out which one your website has by going to the URL and looking for a padlock in the URL address bar. If you have a padlock it will be https, if not http.
Industry category – the type of industry your company is in. This will help you to see how your website is performing compared to similar companies.
Time zone – when your users will be most active on your website.
Once you've completed this, you should be presented with your tracking code which will look like this:


TOP TIP:
If you need to find your tracking code again you can do so by going to your analytics dashboard. Simply select 'admin' on the left-hand side. Then on the second column click on 'tracking info'. Then 'tracking code' and you will see your tracking code on the right-hand side in a box.
3. Add the tracking code to your website
To add the tracking code to your website you need to add it into the head tags (which look like this <head> </head>) on your website. You can do this in a number of ways:
On a WordPress website: either copy and paste the code into the required field in settings or install a Google Analytics plugin from the plugins store. If you run into any problems, consult your theme's doc.
On HubSpot pages or blog: HubSpot allows you to integrate your Google Analytics by adding your tracking ID into the settings. Your tracking ID can be found in your tracking code. In the above example, the tracking ID is 'UA-73132288-1'. For a more detailed guide on how to set this up with HubSpot you can go here.
On other websites: if your website is built with a content management system then there should be a setting in your admin area where you can copy and paste the code into. If no setting is available then you will need to contact a developer to add it for you.
Once you have added the code to your website you can check it's working correctly by putting your URL into a tool called: GAchecker. This will tell you if your website has updated successfully and whether the tracking code has been added to every page of your website. If it is not, please review the steps above.
That's it! You have successfully added Google Analytics to your website. Your next steps include adding the search console and learning about your Google Analytics dashboard, something we'd only be too happy to help with – get in touch today.