FINALLY recently made some changes to our office to better represent our brand. Here are some of the things we learned along the way. If you want to know more about our rebrand and how we can help your business, get in touch today.
Ask your team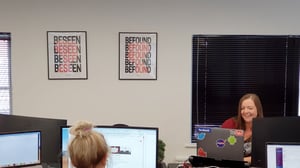 We spend a lot of time at work, so it's important that we make the office a place where your team want to be. Whether you're aspiring to have a fun and upbeat studio or chilled out office, listen to the workforce and understand what they need to work best.
Be playful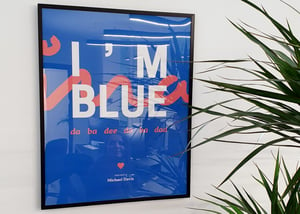 Understandably, the office will have highs and lows. And when you're having a bad day it's good to be reminded that we're all part of the same team. So, help remind your workforce.
For example, one guy in the team has what could be described as specific taste in music and plays the same song at least once a day. We'll call him Blue. The team embraced and celebrated Blue's favourite song with customised artwork that sparks joy among the whole office. Another guy – we'll call him Picasso – makes collages outside of work. We commissioned some of Picasso's designs and placed them around the office to give it a more creative feel.
How can your business incorporate your staff's interests into your workspace to make it more familiar?
Use subliminal messaging…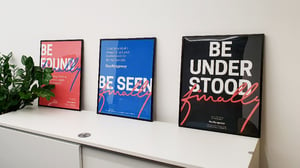 This isn't as sinister as it sounds. FINALLY wanted to showcase its brand values artistically and practically, in a subtle way. By dotting our company ethos Be Seen, Be Found, Be Understood around the office, anyone at any given time can look and be reminded of what anchors our work. They use the new colour palette and fonts from our latest style-guide and positively reinforce the brand.
Read more: Want to know more about branding? Check out our tone of voice guide.
Give visitors a warm welcome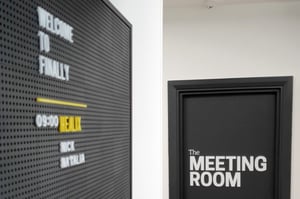 First impressions count. Making our guests feel welcome is important. Whether they're a long-standing client or a potential new business lead – make them feel valued. The welcome sign is a small gesture intended to crack a smile and demonstrate our professionalism. It shows that we're excited to meet you and discuss ideas and strategies.
It's not about desks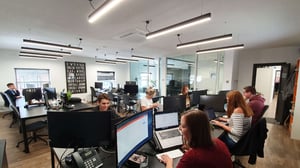 Hot-desking is key to working collaboratively. We have an open-desk policy that allows anyone to sit anywhere they like. Even outside of the office. It's about being flexible, which is why we introduced flexi-time.
Flexible working hours empower the team. They know they're responsible for their work, but a reasonable employer needs to appreciate that their team has responsibilities outside of work too. A flexible working pattern means that they're able to better juggle their priorities and do this in their own time. Staff welfare is important. A team that's appreciated, valued and respected is often more productive and willing to go the extra mile for the business.
Oh, and always make sure your staff is rested and that adequate breaks are being taken with an area away from desks.
Sssshhhh!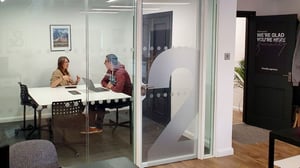 Sound-proof meeting rooms are vital for making your team feel comfortable, especially in reviews or 1-2-1s. Your workplace needs to be about your team and listening to their feedback is key to success.
There's an art to striking the perfect balance when it comes to general noise. Music helps inspire creativity and studies prove that it also increases productivity. We have a Sonos in the studio, which our dear friend, Blue, loves to update regularly. That being said, when half the team are wearing noise-cancelling headphones, you get the idea that not everyone appreciates the constant stream of tunes.
A quiet room gives your team the best of both worlds. Try and incorporate a library-like area for quiet time.
Summary: what we learnt
We recognise that branding starts within. Your team must buy into your vision and feel like they're making a meaningful contribution to your overall mission. They're your biggest brand ambassadors, so it makes sense that your office should be an impressive embassy.
Aside from the cosmetic changes, FINALLY also made adaptations to better reflect its culture. Flexi-time and unlimited working from home is our commitment to everyone's welfare. We're still learning as we grow but our sound-proofed doors are always open when someone has the next big idea.
Contact us
FINALLY is Kent's first inbound marketing agency and our goal is to help our clients be found, seen and understood. Get in touch and see how we can help you.