If you're considering working at a marketing agency, you'll probably have a few questions. hen writing content for your website, you might find yourself asking this important question: should I display the cost of my products and services?
This is understandable. Agency jobs are quite different from their in-house cousins. They're even more different if you're coming from outside of the marketing industry.
To help answer these questions, I've broken down what it's like working at a marketing agency into seven key characteristics. The expert team here at FINALLY have shared their insights too.
Let's get started.


THE WORK IS VARIED AND
FAST-PACED
"In an agency, life comes at you fast. One moment you have all the time in the world; the next you have four clients asking for four different things."
"I see a varied workload as a strength because you learn more about the world of marketing. More importantly, you develop within your role. No two days are the same, which is why I love what I do." Argjend, Account Manager.
For those who already work in a marketing agency, the pace and variation are the defining features. The work comes in fast and is almost always different to what has come before. If you're an adaptable and diligent individual, you'll flourish.
The fast pace and wide range of work is definitely one thing that draws people to working at digital marketing agencies. There are rarely uninspiring or monotonous days in a marketing agency; one day, you might be writing a policy document, the next, you might be creating a brand strategy for a new client.. Variety is the spice of life, as they say.
YOUR TEAM IS EVERYTHING
"In an agency setting, every team member has their place in the project. I previously worked in a small in-house team of two people; this meant I had to do more tasks with less time. We found it hard to create a consistent quality of work."
"Working in an agency is different because you're all working in marketing, so you're on the same team. Everyone has the same end goal, and we all care about meeting it." Phoebe, Digital Marketing Executive.
One of the biggest benefits of working in a marketing agency is the sense of community among the team. While the job roles are all quite different, everyone in an agency strives towards the same goal - delivering amazing results for our clients.
YOU WILL BE CHALLENGED
"Starting at 18, I've had to learn reporting, copywriting, graphic creation, and marketing jargon."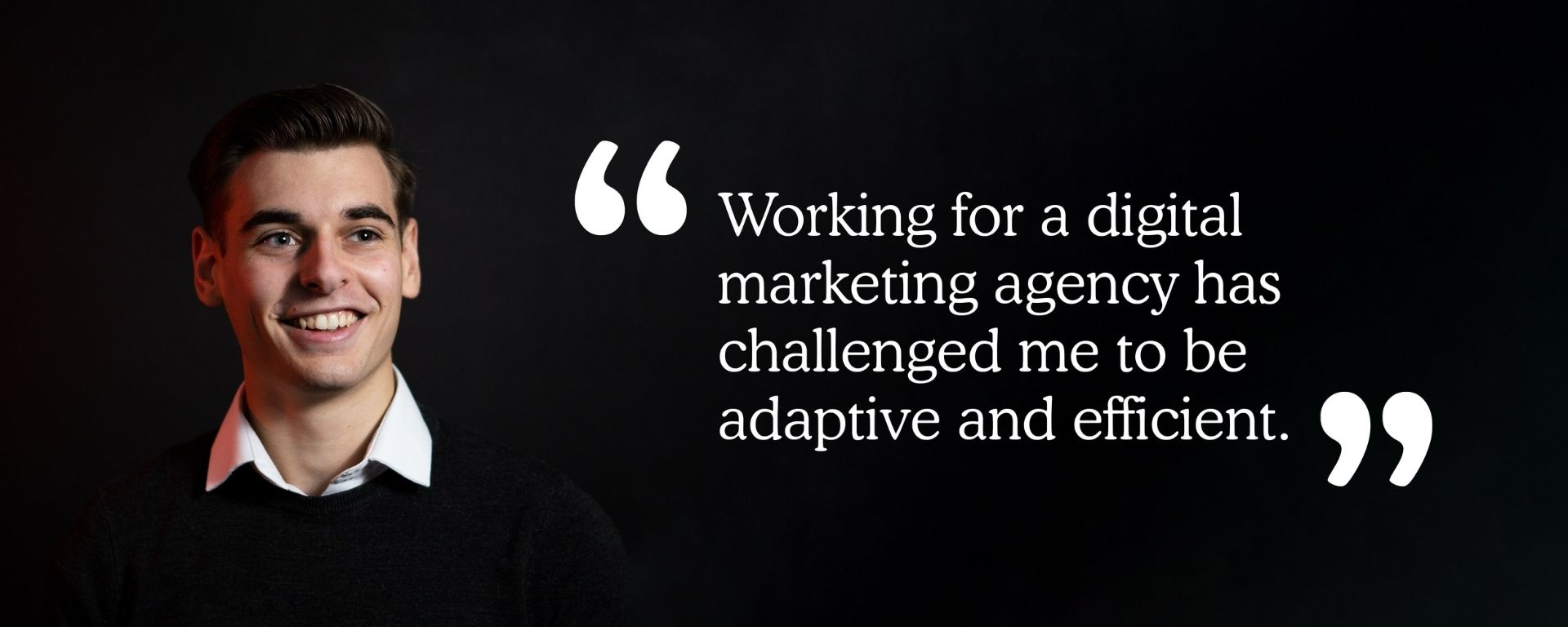 "An agency challenges you in so many ways, but this is what makes every day exciting. We have to think of creative ways to deliver maximum value for our clients, no matter their budget" Jack, Digital Marketing Executive
If you want to work at a marketing agency, you can't shy away from challenge. And why would you? We find that when we are challenged at work, we feel more satisfied at the end of the day. Within an agency, you'll work on several different projects, sometimes consecutively, sometimes concurrently. Each client has different demands, but they all expect fantastic results.
You will enjoy working at a marketing agency if:
➡️ You are used to working at a fast pace
➡️ You are adaptable and flexible in the way you work
➡️ You're willing to learn new things

Want to learn more about what it's like to work at FINALLY? Head to our Careers and Culture page.
THERE'S A SENSE OF OWNERSHIP
"In-house marketing jobs often have internal pressure; it can be hard to disagree with your 'client' if they're your boss. In an agency, questioning things is actively encouraged. Budgets are finite, clients are demanding, and service is everything.
If what you're doing isn't getting results, or could be done better, more creatively, more efficiently - then great, go for it. Having worked in both, I just don't think you get that same sense of ownership in-house." Charlotte, Head of Operations
Creative control is a massive draw for many who work in marketing agencies. The dynamic is quite different to client-side positions. You're the expert in an agency. The client comes to you for your ideas and creative energy. From my experience, the work produced by the team in a marketing agency is crafted with attention and care.
When speaking with colleagues, the ability to truly own your work is perhaps the biggest benefit of a marketing agency. I personally came from the public sector. Initially, I found the creative licence on offer daunting, but now, it is endlessly exciting. In an agency, you'll catch yourself wondering, "what will I create next?" It's a great feeling.
MARKETING AGENCIES OFTEN WORK FOR BOTH B2C AND B2B COMPANIES
If you're considering joining an agency, you'll most likely work for B2B clients at some point.
This might be daunting if you come from the B2C sector. The B2B sector is just as exciting and varied as B2C. We find there is even more satisfaction in creating innovative marketing campaigns that disrupt a traditionally 'quiet' industry. We, however, relish the challenge. The world of B2B marketing is growing fast, so it's good to be open to the experience.
"The difference between B2B and B2C marketing can be obvious. Helping an entity grow is different to helping an individual achieve something. However, there will be a crossover because the human element always exists. I personally see B2B as human to human. Social media is a great example of this, as a business will speak as a person, to another person." Matt, Inbound Marketing Manager.
Those in creative or content-driven positions will most likely find a contrast between the B2C and B2B worlds.
"For me, B2B marketing is quite different from the B2C world. We're all used to seeing content created for public consumption, but writing for B2B projects can be entirely different. Most of your content is created for industry specialists who intend other specialists to see it. This means you have to quickly become an expert in order to write with authority." Connor, Creative Copywriter.
Those who work for agencies over a long period enjoy creating material for both sides of the marketing world. Some agencies (like FINALLY) specialise in one world or another, while others work with just about anyone. It's a good idea to keep this in mind when applying for jobs, but don't be put off by B2B marketing just because it seems unfamiliar.
YOU'LL DEVELOP NEW SKILLS
"In a digital marketing agency, not all jobs are the same. From one project to another, you may have to use different skills. In an agency, you'll develop your skills faster than those in an in-house setting. Each client has different demands, so you'll need to be on your toes." Rob, Head of Web Development
A marketing agency is a fantastic environment to learn new skills and hone the ones you already have. The variation in the work from project to project means you'll have to be adaptable to see the job finished.
In an in-house role, the systems, procedures and content are likely to be similar from month to month. An agency role will have you collaborating with clients whose styles could be contrasting. This means you'll have to learn new skills to meet the demands of the project; this could be new programmes, unfamiliar writing styles or art directions.
At times you could be asked to work outside of your job role in order to finish projects on time. Veterans of marketing agencies become polymaths who can dip into any section of the marketing world. For example, I recently learned all about SEO from the social team as part of my content role.
LET'S SUMMARISE:
The demands of marketing agencies are challenging, but the rewards are more than worth it. Many who make careers in marketing love the environment agencies offer.
For us at FINALLY, we love the feeling of ownership; plus, the work keeps you thinking from one project to the next. Here are the benefits as we see them:
The benefits of working at a marketing agency
Varied work
Strong sense of team
Fantastic opportunity to grow and develop skills
High levels of creative control