If it's your job to market your manufacturing business, you might be wondering whether or not an inbound marketing strategy can honestly work for manufacturers.
After all, manufacturing is typically very focused on traditional outbound marketing, such as high-cost investments in trade magazines, exhibition fairs and an outbound sales process, so what is the benefit of introducing inbound methodologies?
In this blog, we will cover the benefits of inbound marketing for manufacturers and why it is important to implement an inbound marketing strategy.
BLOG OVERVIEW
What is inbound marketing and how does it work?
There are three pillars to any inbound marketing strategy: attract, engage, delight.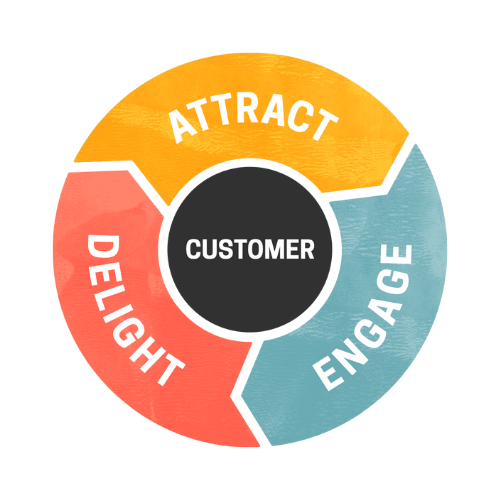 Inbound marketing attracts customers to your brand through trust-building. The aim is to create a relationship built on value and education, which encourages them to become advocates of your business. Doing this increases your chances of winning repeat business.
ATTRACT
Attracting customers is the first step you need to take to grow your manufacturing business.
Everybody knows that you'll quickly lose faith in the business without leads in the pipeline and struggle to continue if the leads aren't going anywhere. Attracting prospects is achievable by creating valuable content for your customers, which positions your brand as an authority and begins to build a relationship of trust with potential customers.
How does creating content attract customers? In the B2B market, more than 80% of buyers research products and services online before purchasing, especially if it is a significant investment.
Buyers are more informed than ever and have access to many options. That means they'll often start researching months before they think they are ready to buy.
ENGAGE
The engagement activity begins once you have attracted people to your manufacturing business.
To keep prospects engaged and informed, you'll need to produce value-driven content. This could be a helpful blog or guide focussing on their pain points, or perhaps a video explaining the benefits of your services.
The more engaged a prospect is with your content, the more you build your authority position in your sector.
When the time comes to purchase, your prospect is already engaged and aligned with your business.
DELIGHT
Delighting your customers can be as simple as timely emails, short lead times, and efficient customer service.
By now, you know your customers' pain points, and any effort you make to combat these and provide solutions will make their lives easier, and they will thank you for it.
Why is inbound marketing important for manufacturers?
Manufacturing companies typically sell a product or service that is a high-cost investment, and the deal lifecycle can be months long.
This is why inbound marketing is the best strategy for manufacturers, as the focus is on catching your customers' interest earlier in their buying process. By earning their trust and loyalty over time, you smoothen the conversion process.
Providing prospects and customers with intelligent, valuable content in various forms creates many different touch points for your customers to engage with your business independently.
With a CRM like HubSpot, you will be able to track your customers' activity on your website and predict precisely when they are ready to talk to the sales team.
The benefits of inbound marketing for manufacturers
Let's dive into the four benefits of inbound marketing for manufacturing companies.
1. Inbound marketing is more cost-effective than traditional marketing
Traditional marketing, such as print advertisements and trade shows, can quickly become very expensive.
With an inbound marketing approach, attracting your customers hinges on creating the most valuable content. Time is the most significant investment you will make with an inbound marketing approach.
Researching, creating and promoting your content does take time. Some companies hire a full-time content manager or make it a significant part of the marketing department's responsibility.
The time investment in creating a content strategy that will last your company lifetime, with edits to content being much cheaper (or free) compared to overhauling your exhibition stand each year or regularly changing the design of your print advertisements.
One content is produced, it can be reused and repurposed infinitely. Although it is important to remember that there will be a time investment in making sure the content is relevant, up-to-date and in-line with the current best practices for search engine optimisation.
As outlined below, there can be monetary costs of creating the content for your inbound marketing strategy. These are typically much smaller costs than traditional marketing.
The salaries of the team who create the content, or outsourcing costs to freelancers
Any money spent on promoting the content online through online advertisements
As well as being generally cheaper, the success of a content marketing campaign can be entirely attributed to the content with data, so you know exactly what your ROI will be.
2. Inbound marketing creates more opportunities for your sales team
The more content you provide, the more conversion opportunities you create.
Rather than having a single contact form on the website, multiple blogs or landing pages allow the customer to move through the buying process at their own pace and ensure that your sales team receives more qualified leads.
In fact, a content marketing strategy can be a fundamental driver of success for your sales team. It arms them with information about the customer so they can make more informed decisions when it comes to social selling and customer research.
Through cookies and tracking analytics, your sales team will know what topics the customers are interested in and can personalise future communications in accordance. Not only does this equip your sales team with valuable information, it also improves the customer experience as it avoids them muddying through irrelevant content.
An inbound marketing strategy can provide you with data your business needs to constantly optimise your marketing content; meaning you have the best chance of attracting, engaging and delighting your customers.
3. Inbound marketing can position your brand as an authority in the industry
With valuable content as the driver of your inbound strategy, you can position your manufacturing company as the authority in your industry. This builds a relationship of trust with your customers that you can nurture from prospect to buyer and beyond.
For example, you can build authority and trust with your customer by providing the following.
The content you provide on your product or service is valuable to customers in the buyer journey. Answering their questions acknowledges and combats their pain points and breaks down barriers to purchase.
4. Inbound marketing creates brand ambassadors
The final step in the inbound marketing process is to ensure that customers become ambassadors.
Customers become ambassadors when that relationship of trust we have built through the whole inbound journey comes to a peak.
12 to 18 months before purchasing a machine or signing a contract with your business, the buyer starts to research the product or service in question. The buying journey is long, and there are other companies with the same offer as you.
However, if you have successfully implemented an inbound marketing strategy, you will have been with your customer directly or indirectly at every stage of their buying process.
From the awareness stage through consideration and decision making, inbound marketing strategies ensure you are always there for the customer, answering questions and building that all-important relationship.
Delighting the customer is all about the extra value you offer actual purchase. This can be through the useful and relevant content that makes up your inbound marketing strategy, but it is also important to consider fundamental best practices, too.
Imagine if the product wasn't delivered on time, or the customer service team were rude, or actually, the service was not of good quality. These things are still essential to building a relationship of trust with the customer, as it could undo all the hard work in your inbound strategy.
---
Are you ready to implement an inbound marketing strategy in your manufacturing business? Let's recap the benefits:
Inbound marketing is more cost-effective
Inbound marketing creates opportunities for your sales team
Inbound marketing can position your brand as an authority in the industry
Inbound marketing creates brand ambassadors and increases customer loyalty
---
Read more about inbound marketing on the FINALLY blog, and connect with me on LinkedIn.
Sign up to The Engine Room newsletter to join our community of manufacturing marketers and gain insights and access to exclusive content.