After a morning of battling my way through torrential rain and lorry spray on the M2, I was glad to FINALLY make it to my new office in Canterbury.
My last role was as a graphic designer for a London-based agency that specialised in editorial design. And having recently bought a house further out of London (because let's face it, who can actually afford anything in London?!) it made sense for me to look for a role that was closer to my new home. On top of that, I was also looking for a change and wanting to experience other areas of graphic design, which is how I found myself here right now, ringing the doorbell and being buzzed into the FINALLY office.
I nervously walked through the door to be greeted by Steve the CEO, who immediately made me feel at ease with his friendly welcome.
Once I had abandoned my dripping umbrella, I was introduced to the team and given a quick tour of the building. After being shown the kitchen and its snazzy coffee machine, the toilets and the meeting room, I was shown to my desk, where there was a mysterious black box waiting for me. Steve informed me that it was mine and I dutifully opened it to discover a sparkly new MacBook, a branded notepad, t-shirt, coffee cup, coaster and laptop cover – what a way to greet new starters!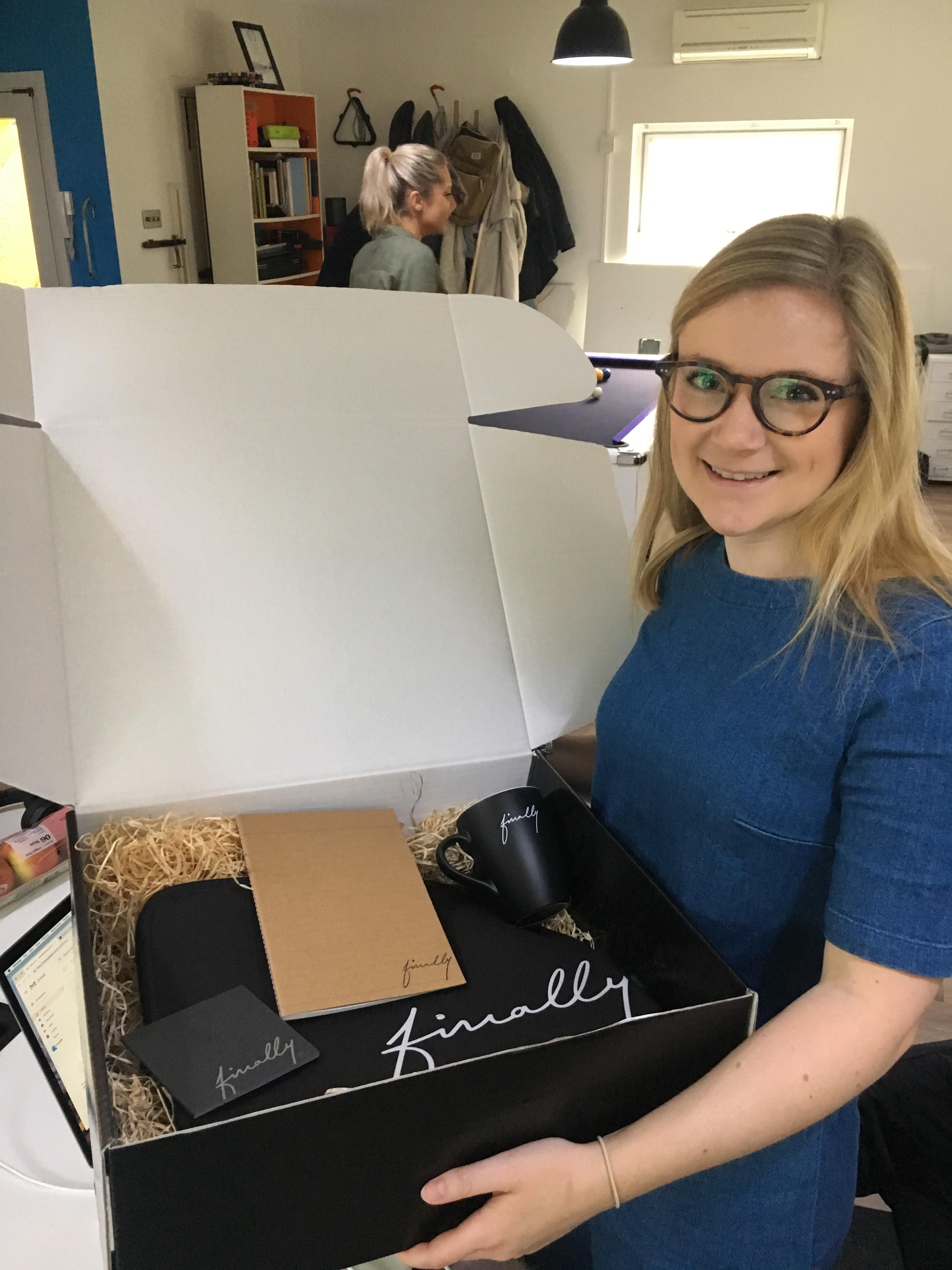 Before lunch, I joined an internal meeting where we discussed FINALLY's presentation styles. Mid-discussion, Steve excitedly got up to use the chalkboard and I was thrilled to be transported back to junior school. The board was certainly a welcome change to staring at blank walls or a generic set of slides from a powerpoint.
Next, I met the studio manager, Julie. She talked me through the various office procedures, where the most surprising was the lunch and home time bell. At first, I thought she was joking but come one o'clock the bell went ding and everyone departed for lunch. I was loving the school nostalgia and really liking the lighthearted attitude of the team.
Steve and the designers took me out for lunch at GBK as a way of officially welcoming me into the team. If there's a better way of getting to know your team than doing so over a burger, I challenge you to tell me what is.
With full stomachs, we all walked back to the office in the persistent rain, where Charlie set me my first task of designing a banner for a shopfront window. Call it first day nerves, but am I the only one who gets conscious that you're spending ages on your first assignment? The pressure of making an amazing first impression and having to deliver a piece that's perfect is immense! Fortunately, the team loved it and what little feedback they offered was really productive and super useful.
Later that afternoon, one of the other designers hosted a presentation to the team for some feedback on the work he had produced for a car rental company. Nathan went over the design decisions and talked us through his choices in order to please the client. The approach was methodical and engaging and it gave me a chance to see what is expected for client presentations.
The day seemed to fly by and – DING – it was home time! Overall, my first day at FINALLY couldn't have gone better. The team were very welcoming and friendly, with lots of laughter and fun to be had all day long. From what I have seen so far, the work and the broad client base pose an exciting variety of opportunities for me to develop my knowledge and experience. I hope to expand my web design skills and potentially learn a thing or two from the web developers that work here.
Feeling inspired, I'm equipped and excited to start my own project in the near future.